EcoSikh Completes 850 Sacred Forests in Fifty six Months
Chandigarh, November 17, 2023 : ( AVAJ APKI NEWS )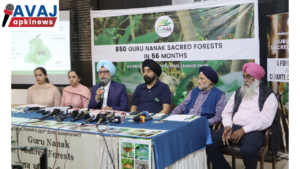 EcoSikh, an environmental organization today announced the completion of 850 Guru Nanak Sacred Forests in 56 months in Punjab and 6 other states of India. Each forest has 550 trees of native species totalling 4,70,000 trees planted so far.
In addition, EcoSikh stated that its team has the capacity to plant 100 such forests every month. In Punjab 650 such forests have already come up under the reforestation drive of EcoSikh. Meanwhile, it has also requested the Punjab government to adopt Miyawaki methodology (Japanese methodology) for growing forests.
Dr. Rajwant Singh, Global President of EcoSikh, said, "We had started this initiative in February 2019 in celebration of Guru Nanak's 550th birth-anniversary and EcoSikh had committed to plant 1 million trees. We have almost reached the halfway point this month and this journey has been amazing so far."
He added, "We want to thank all the stakeholders for partnering with us to create these forests. This is helping to restore the biodiversity of Punjab; revive the air quality and create secure habitats for birds and pollinators. Every citizen can come forward to join this movement."
EcoSikh has worked with individuals, gurdwaras, educational institutions and industry to plant these forests to achieve its declared goal.
Charan Singh, a pioneering industrialist from Maharashtra and Sacred Forest Convener shared, "Guru Nanak Sacred Forests will bring tremendous benefits to the industry, making our businesses look greener than the competitors." He further said, "Industry must grab this opportunity and join hands with EcoSikh to turn the tide of climate change, collectively we will make a huge impact by planting and maintaining millions of native trees."
Mr. Jagat Aggarwal, Managing Director of Pioneer Industries Private Limited announced a transformative partnership with EcoSikh, who has led the planting of more than 43500 trees Miyawaki forest. "The strategic development of a forest in our industrial area serves as a testament to our unwavering commitment to sustainable practices, ensuring a balance between industrial growth and ecological preservation."
President The Chamber of Industrial & Commercial Undertaking (CICU), Upkar Singh Ahuja reassured full support towards the afforestation programme. "The CICU allies and members have shown an encouraging commitment towards the Lungs of Ludhiana project by creating 139 such Guru Nanak Sacred Forests so far and we aim to boost the programme at much speed."
Dr. Supreet Kaur, President Ecosikh India shared the role of Punjabi youth, hardworking forest creators of Ecosikh who are fully skilled in planting with Miyawaki methodology (Japanese methodology). They have been mentored by Mr. Shubendu Sharma a world renowned expert on the technique.
She shared and said, "We now have 45 well-trained young forest makers all over Punjab and they are planting forests everyday even during extreme hot weather or during rainy days. This important work does not stop." She added, "EcoSikh extends an invitation to all the Punjabis to contribute to the noble mission."
Bharat Jain,  representing the youth of Punjab highlighted three areas where they wish to collaborate with youngsters 'awareness initiative and legacy' to take forward the mission of increasing the forest cover of Punjab.
Kulwinder Singh, Sarpanch from Khera Majha said, "These forests are bringing back those species of trees which have disappeared in last so many decades. These trees are inviting back many different birds and much biodiversity which helps to revitalise the soil and it also helps to control pollution."
EcoSikh is a global action oriented environmental organization which is focused on climate solutions. It has been invited to various platforms by the White House, United Nations, Vatican and many governmental organizations across the globe. It engages youth and women to get involved in its projects. It also has a goal to plant 450 forests in Amritsar as the Amritsar's 450th foundation day is coming in 2027.