Grassroot Innovators of Punjab Program
June 6, 2023 : ( AVAJ APKI NEWS )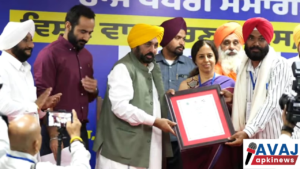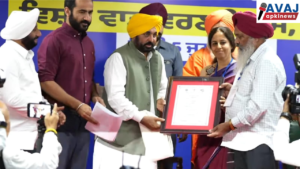 S. Bhagwant Maan, Hon'ble Chief Minister, Punjab honoured Grassroot Innovators of the State selected under special program 'Grassroot Innovators of Punjab' launched recently by State Govt., today at Knowledge City, Mohali. Addressing the gathering onWorld Environment Day, CM congratulated Punjab State Council for Science & Technology (PSCST) for taking up this pioneering initiative in the State in collaboration with National Innovation Foundation, Department of Science & Technology, Govt. of India. He was happy to note that DST-Govt. of India is urging other States of the Country to emulate the model framework developed by Punjab for mapping & nurturing grassroot innovations. He applauded efforts of Innovators and encouraged them to continue developing innovative solutions to address location specific challenges.
S. Gurmeet Singh Meet Hayer, Hon'ble Minister, Science, Technology & Environment stated that Punjab, besides being known asland of Saints & Gurus is also recognized for entrepreneurial spirit and innovative minds. Punjab being a front runner in agriculture and manufacturing sector, a largenumber of local need based innovative solutions are developed by Punjabis.
Dr. Jatinder Kaur Arora, Executive Director, PSCST shared that the Council has launched GRIP Initiative to identify and take forward such innovations. She further shared that field network of State relevant departments, District Administrations and Knowledge Partner Institutions was involved for this endeavour. Extensive campaigns across the state led to 200 innovators submitting their applications, out of which 5 potential ones have been felicitated by Hon'ble CM.These will be provided technological support and complete assistance for patent filing etc.
The five innovators who were felicitated included S. Jaswant Singh from Ludhiana for developing automatic machine for honey combfoundation sheet production, S. Tirath Singh from Malerkotla for seed roller for vegetable cultivation, S. Gurvinder Singh Sohi for innovative gladiolus planting machine, S. Baltej Singh from Ferozepur for light weight flower rain machine and S. Gurwant Singh from Ludhiana for peelo hand cut tool for multifarious functions.